Pressure washing removes dust and dirt, and helps give your home curb appeal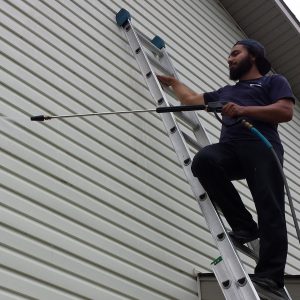 Dust and dirt build-up are more visible on vinyl and metal siding. Also, they are prone to oxidation from the sun, characterized by a visible white, powdery coating. This makes the siding look faded. There are products you can use on vinyl and metal siding to remove oxidation. Pressure washing can achieve a similar result for much less money, and without chemicals. Proper technique will ensure a cleaner, brighter, and more even appearance.
A high pressure wash to stucco is the most cost effective way to prevent discoloration that occurs over time. Because it is porous, it won't remove embedded stains. Stucco is partly made of sand or rocks, so fine particles can come off. It can damage stucco and other surfaces, but only if the wrong nozzle is used, or it is very loose. If pressure washing isn't done too often, it won't affect the integrity of the surface.  There are times where stucco will need a fresh coat of paint.
Pressure washing natural wood siding gets rid of embedded dirt and algae. This hides the grain detail and make it look dull. Because wood is a natural product, it needs more care than other types of siding. For painted wood, dust and dirt disperses quickly and easily from the hard, smooth surface. For wood in need of a paint job, pressure washing cleans the surface and removes much of the loose paint.
Walked on surfaces include concrete patios, vinyl & wooden decks, and walkways. Pressure washing gets rid of surface dirt as well as embedded stains from standing water and overhead trees. Areas with mature trees turn the concrete a dark green color. With routine pressure washing, it can look like new again!
Inside Garages & Driveways
Your vehicles track salt, sand, and dirt into your garage. In turn, this tracks into the interior of your vehicle and your home. Prior to pressure washing, we do a thorough sweep of your garage. This lessens debris at the end of your driveway. Also, airborne dust is minimal through a pre-soak that keeps dust heavy and clumps it all together. This results in a clean and smooth garage floor.
We're A+ Students, look at our grades:
Have used Student Suds for about 5 years. They are a very professional company. Their staff are courteous and friendly. Highly recommend them for window washing. They are prompt and work quickly

We recently had all our windows cleaned on our 2800sq ft home and the exterior of the house pressure washed. Everything was great. I wasn't home during the service but when I got home everything met my expectations and my property was left clean. I would definitely use Student Suds again and recommend them to my friends.

A pleasant experience. The crew arrived early, was very courteous, and did the work very efficiently.