Our gutter cleaning removes multiple sources of debris that block gutters and downspouts.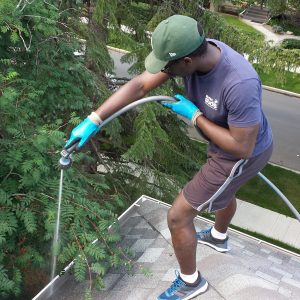 Gutter Cleaning for Areas with Mature Trees
Living in an area with mature trees means gutters need cleaning on a regular basis. Your gutters fill up with leaves, pine needles, acorns, twigs and other debris. When and how often your gutters need cleaning will depend on the quantity and type of trees in your area. Even if there are no trees directly overhead, it would surprise you to see what the wind carries. Most trees shed their leaves in the fall. Some pine trees have heat activated pine cones that burst open on a hot summer day. For these areas, we recommend gutter cleaning twice a year, once in the spring/summer and again in the fall.
If you live in a house with an asphalt roof, a lot of the asphalt ends up in your gutters. This is unavoidable for this type of roof. Also, new neighborhoods will have gutters full of landscape dirt and construction debris. When you first move in to a home, it is best to have your gutters and roof cleaned and inspected. After this, without mature trees, we recommend gutter cleaning every few years. This will largely depend on the quality and wear on your shingles. With new shingles, the top layer of asphalt will shed in the first couple years. As it comes closer to replacing your shingles, asphalt will accumulate every year. Slush, snow, and ice can wear your shingles out faster.
Shingles will chip and break away over time and end up in your gutters. These loose shingles attract wasps looking to build their nest. In addition, moss buildup on the shingles add to the debris, particularly during wet summers. The more precipitation there is, the longer these shingles stay wet. Melting of ice and snow also keeps shingles wet for longer during the winter. Without mature trees, we recommend gutter cleaning every 2 years, or whenever you notice an issue. If you're in the market to replace or repair your shingles, we recommend Jayson Global. They offer roof maintenance, repair, and installation, and have good reviews.
Will Gutter Guards Save Me from Gutter Cleaning?
There are lots of items on the market, which usually consist of a mesh design that fit over your gutters. There are many false claims that gutter guards will make gutter cleaning a chore of the past. But now, the debris either rests on top of the mesh, or passes through its holes (even tiny ones). This means your gutters still need cleaning on a regular basis. To remove and replace the mesh each time will make gutter cleaning much more expensive. We don't install these products because we don't believe in them. Additionally, gutter guards allow more snow and ice to rest on the edge of the roof, which causes damming. The effect of this is icicles forming at the gutter. This may also occur when your gutters are not level.
We're A+ Students, look at our grades:
Have used Student Suds for about 5 years. They are a very professional company. Their staff are courteous and friendly. Highly recommend them for window washing. They are prompt and work quickly

We recently had all our windows cleaned on our 2800sq ft home and the exterior of the house pressure washed. Everything was great. I wasn't home during the service but when I got home everything met my expectations and my property was left clean. I would definitely use Student Suds again and recommend them to my friends.

A pleasant experience. The crew arrived early, was very courteous, and did the work very efficiently.